Do you literally have relationship, marriage problem & need to return your lost love back, Bring peace, love and happiness in your marriage, Marriage spells, Love spells. Tap Here Now for a solution

In developed countries, there is a system in place to absorb children unwanted by their biological parents at birth. Such unwanted children are adopted at birth or handed to orphanage homes to be adopted later in life.
In Africa, such a system does not exist. Sometimes, unwanted children are often thrown away after conception by their parents.
A South African man posted on Twitter the images of an infant abandoned in thrown and abandoned in bushes, and the child been carried by a woman who possibly discovered it.
Reacting to the image, another user with the ID UncleFifi (@refiloeofficial) confessed that like the discovered infant, his parents also abandoned him thirty-five years ago.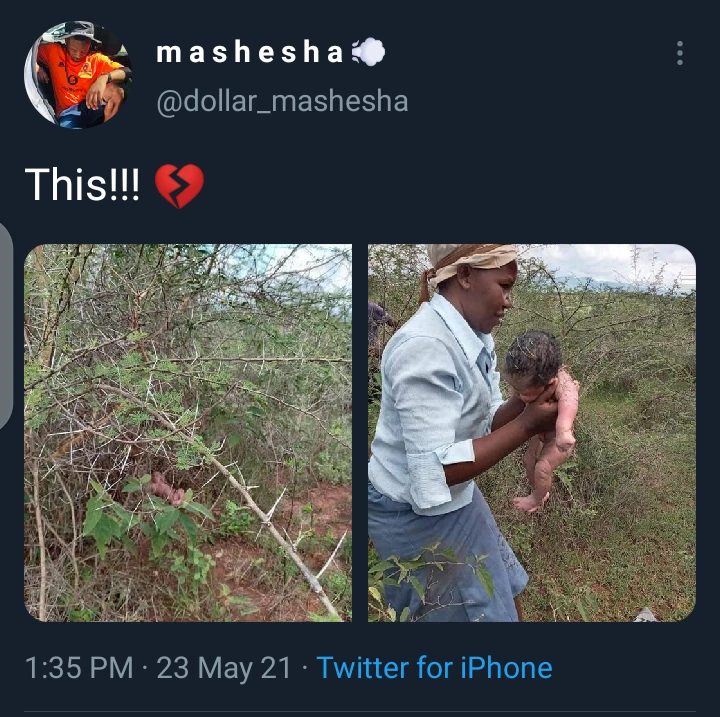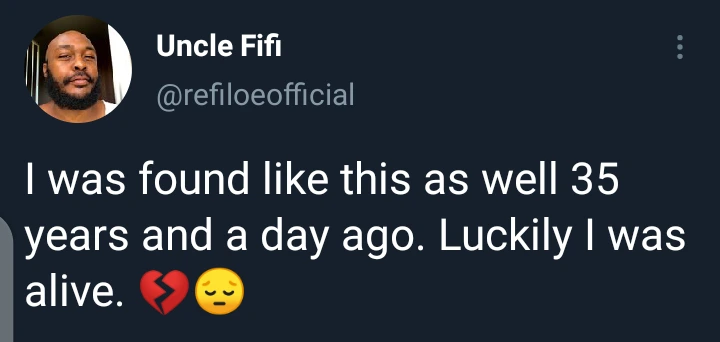 Responding to inquiries from curious Tweeps, UncleFifi explained that he was found by a man who was going to work very early in the morning. The man had stopped, picked him up and took him to the police station and handed him over. He appreciated his adopted parents whom he called my REAL parents for giving him a better life, considering where he was found - he gave the name Thibela - a village in the Free State province of South Africa. "Imagine how I could I have turned out, because I am assuming my biological parents lived close to there and couldn't take care of me I wouldn't have turned out like this and all the privileges I was blessed with", he explained.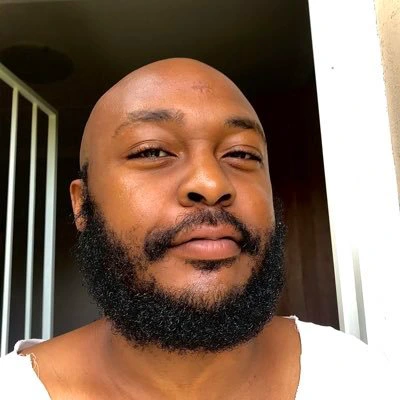 Mr. UncleFifi (Image: refiloeofficial/Twitter)
UncleFifi appreciated his adopted parents and entire family for the love they showed him. He revealed that he didn't discover about his true parentage until he was sixteen years old. When asked if he hates his biological mother for abandoning him, he said no, he appreciates her instead for making it possible for his real mother to find him.
Others raise the possibility and his biological mother knows him and has seen him, but he responded that he doesn't know her and holds no grudge against her either.
It is time for the family structure in Africa to be reformed. A system should be put in place like in the West, whereby children who are not wanted by their biological parents due to various circumstances can be adopted by others who needed children but couldn't conceive one. We hope that the baby found today would one day have a similar testimony as UncleFifi.