Do you literally have relationship, marriage problem & need to return your lost love back, Bring peace, love and happiness in your marriage, Marriage spells, Love spells. Tap Here Now for a solution

We all know that a lot of people have been reacting to the death of Prophet TB Joshua as it seemed like a surprise to everyone. A post from a Nigerian LGBT rights activist, Pamela Adie stirred reaction and drew more attention after a well known blogger, Linda Ikeji revealed what she posted about the deceased via her Facebook page. Pamela is also public speaker, screenwriter and filmmaker.
According to what Linda Ikeji posted, the LGBT activist claimed that Prophet TB Joshua had been sick for days and was on his way to the hospital to seek medical treatment. Pamela claimed that the man of God camped sick people in his church while he went out to seek medical attention. She revealed how happy she felt when she heard about his death and rejoice that the sick ones will eventually go to the hospital for medical treatment. See what Pamela posted on her Facebook handle in the screenshot below: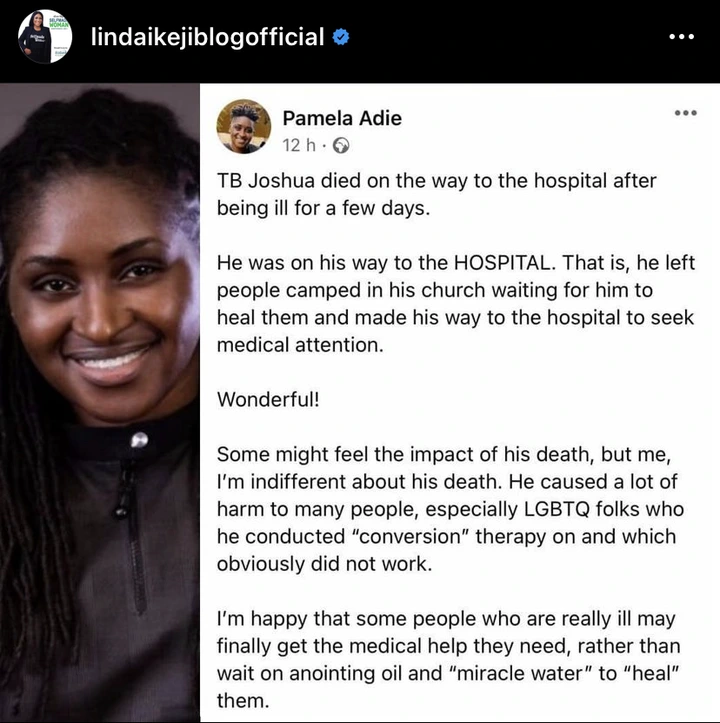 After I read the little post the blogger, Linda Ikeji uploaded this morning, I went to Pamela Adie handle on Facebook and I came across the new post from her. Pamela claimed that she is under no whatsoever obligation to mourn the prophet's death. She claimed that the man of God was an harmful man who is responsible for so many people death. She even made reference to the people that died during the moment the prophet's church collapsed. See the full gist in the screenshot below: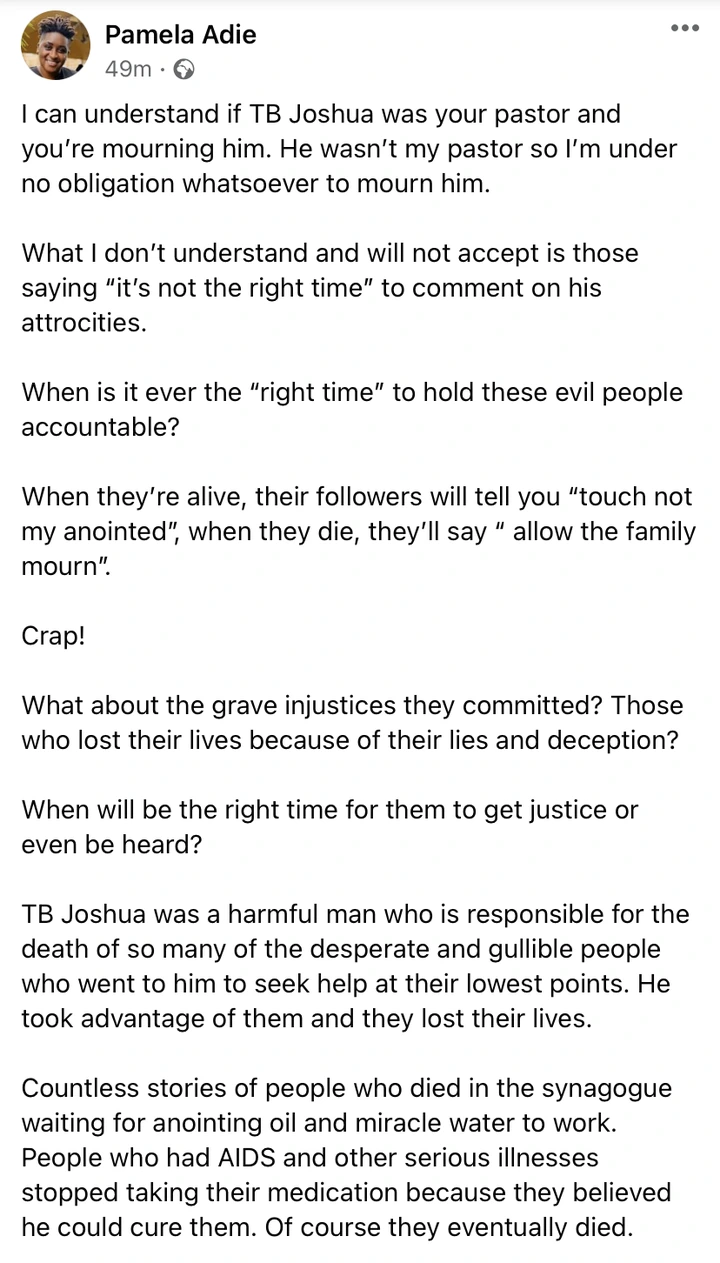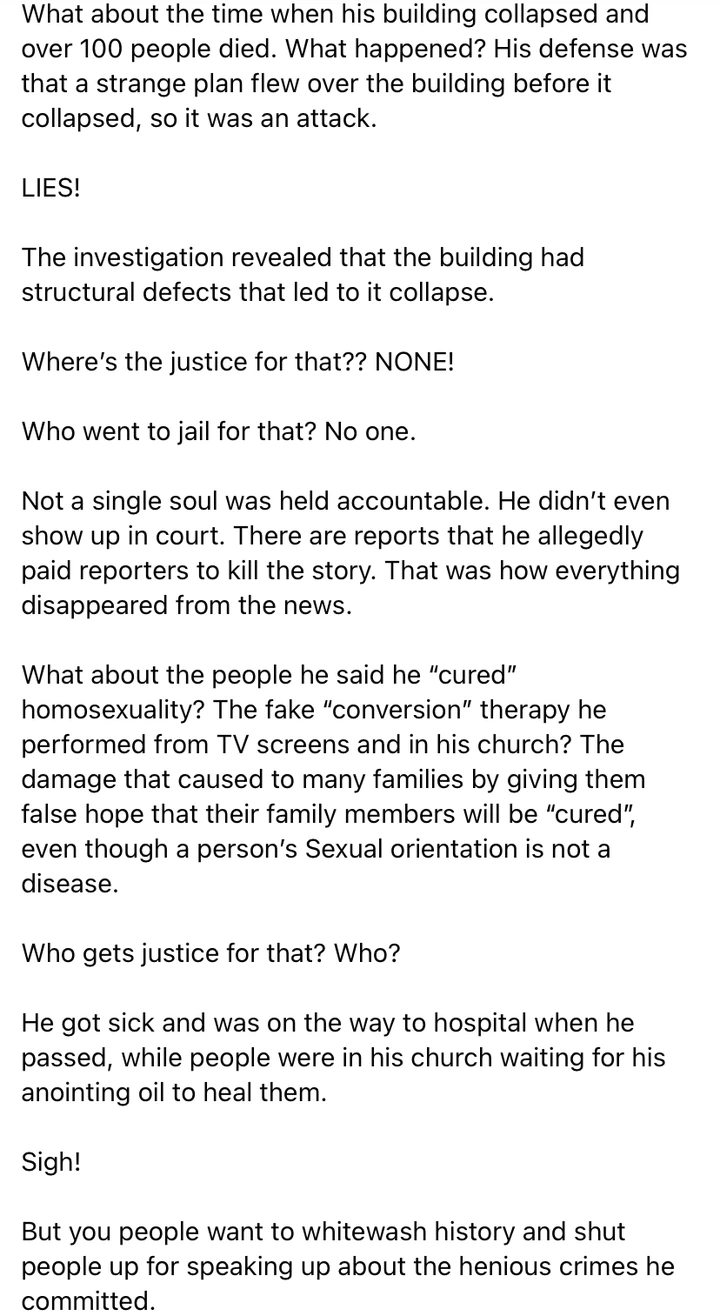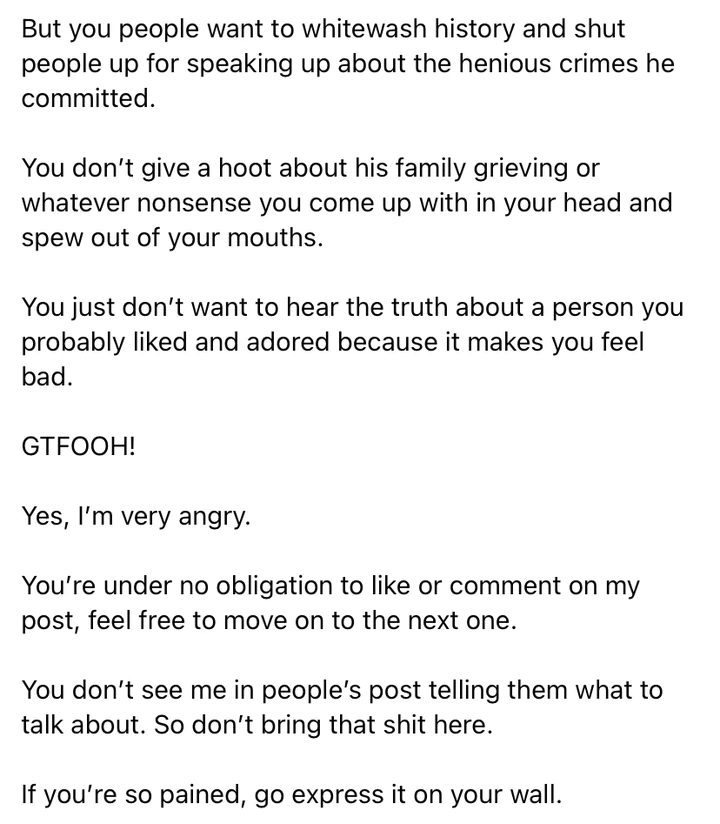 Only God knows his true followers and the people serving him. I believe no one has whatsoever right to judge anyone. Her posts and claims also generated a lot of talks and reactions from Nigerians.
Some Nigerians blasted her while some seemed to be in support of what she said. See the comments that were made via Linda Ikeji's post on Instagram: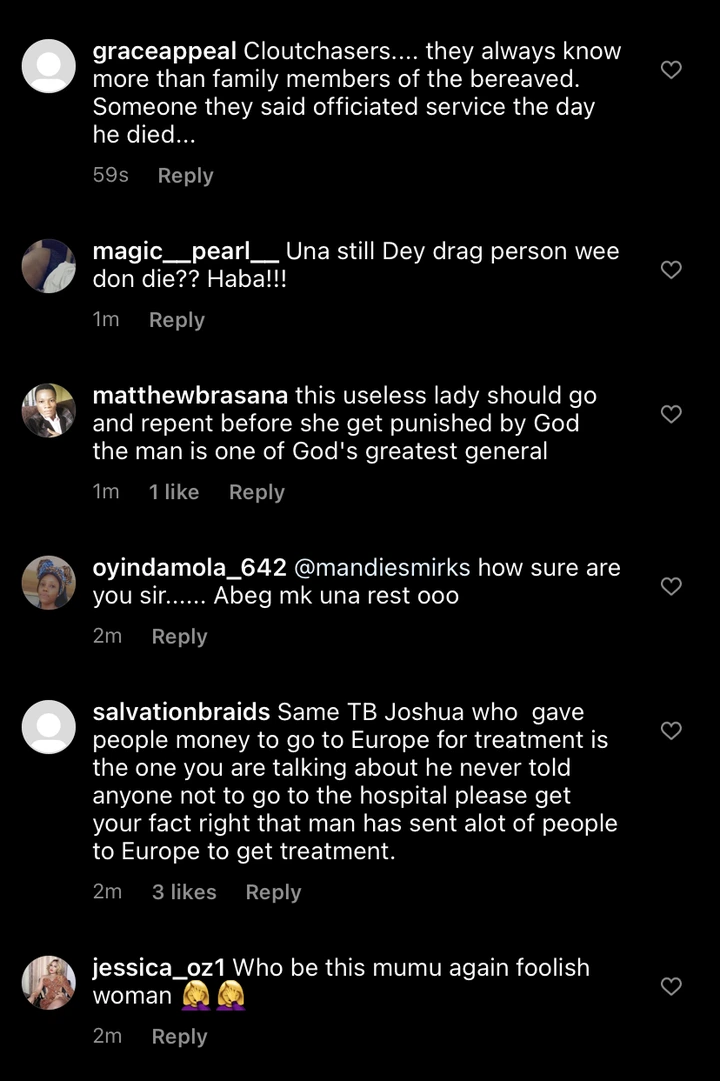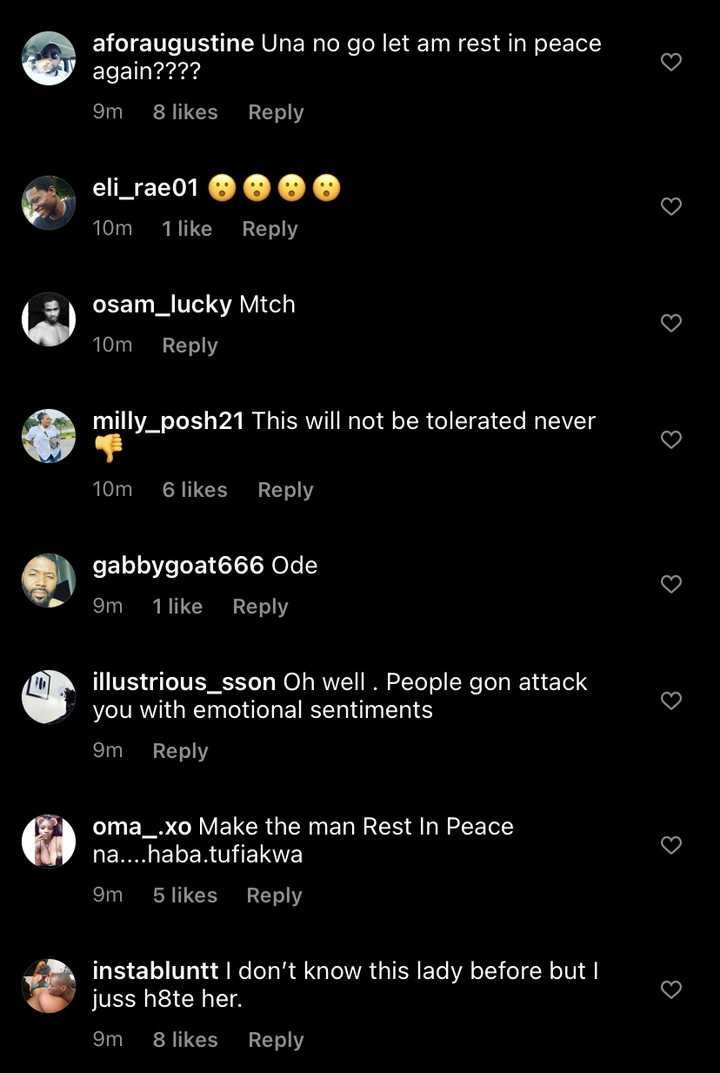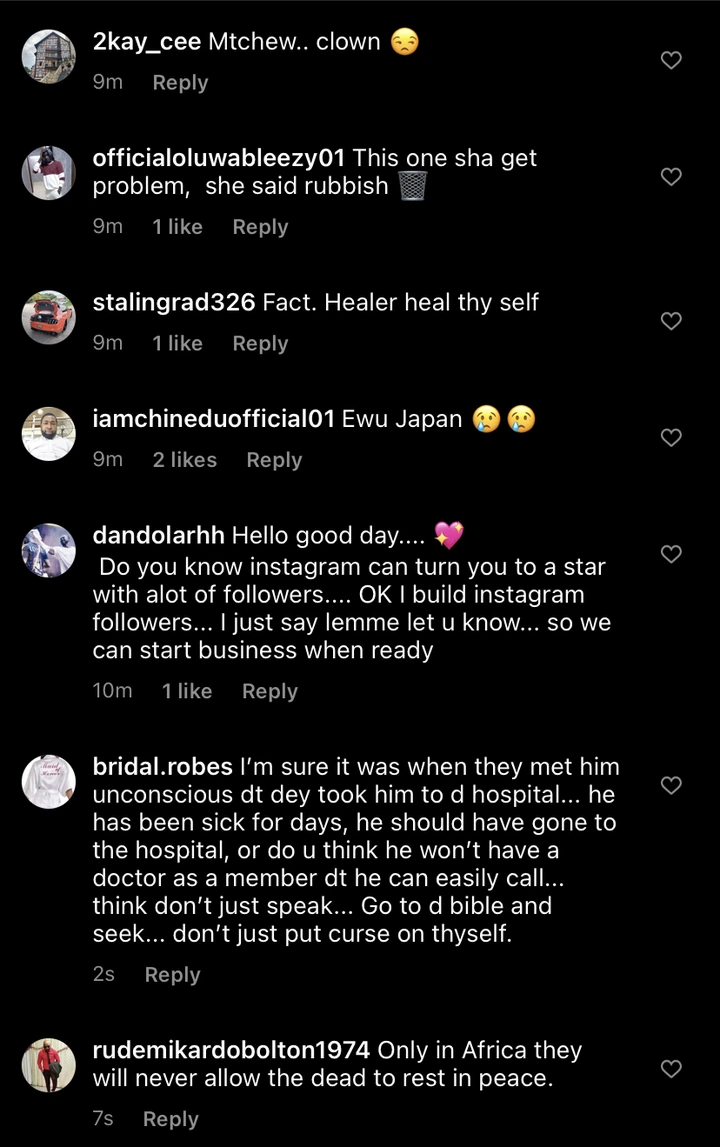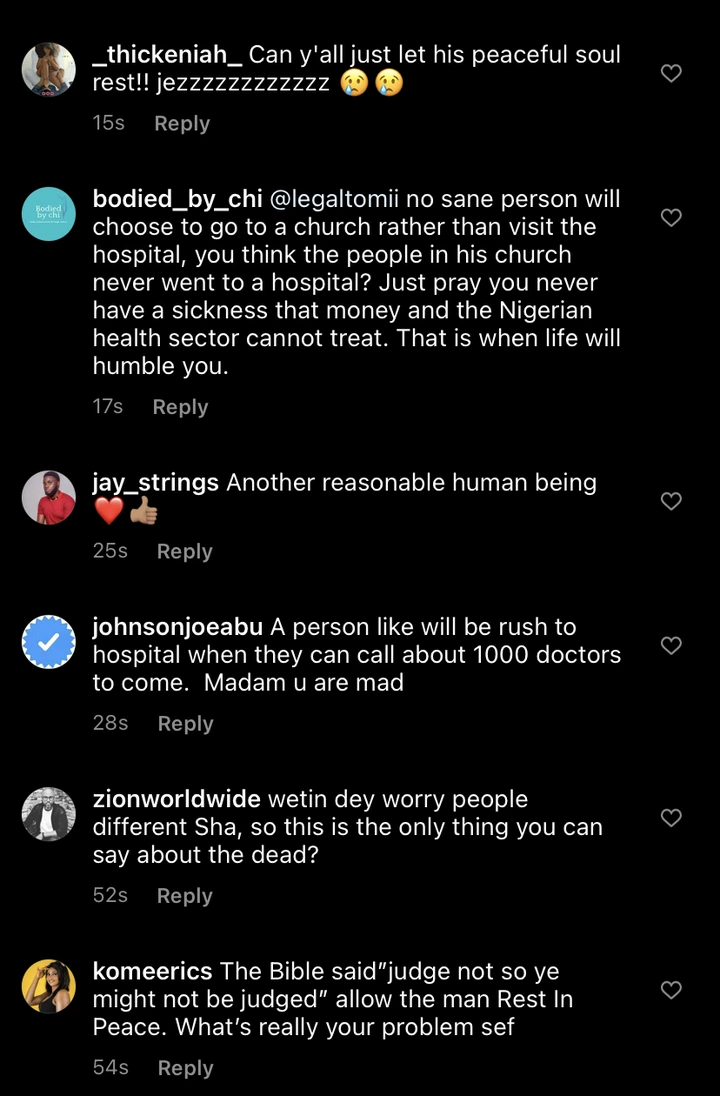 Having read it all, what do you think? Do well to give your opinions, like, share and follow for more information!